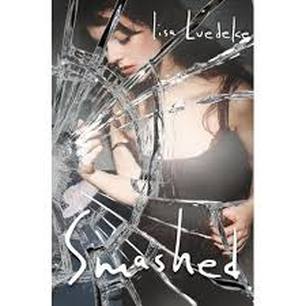 Earlier this year, I had the great pleasure of meeting YA author,
Lisa Luedeke
at the
Highlights Foundation
. We got to talking about her work and she was kind enough to share with me a copy of her debut novel,
SMASHED
, and to answer some questions about it and her writing process. I hope you enjoy what she has to say ...
ME: Your debut YA novel, Smashed, deals with some pretty serious issues including underage drinking, bullying, sexual misconduct and generally the pressure teens face both socially and academically. What drew you to writing about these themes?






LISA:
At the beginning, I was interested in writing a realistic story about alcoholism in a teenager, which I hadn't seen done in YA literature before. There may be good depictions of this now, but at the time I began thinking about this book I hadn't seen any that were true to life.
I typically start with a problem or situation that interests me, and then work my way out from that situation. In this case, that problem involved alcohol, a car accident, and the impact it would have on the main character's athletic scholarship. The situation has to be interesting enough to sustain my interest and this one did. The character emerges from the situation: who would find themselves in this predicament? What led up to this moment? And more specific to
Smashed
: Where are the parents? Why has no one found them? Why is she in a car with someone she doesn't even like? The very first scene I wrote—the scene the night of the car accident—I wrote to figure out the answers. All the other things you mention eventually evolved from this and my desire to make it as true to life as possible
ME:
Your novel has been compared favorably to Laurie Halse Anderson's
Speak
. Is Anderson one of your influences as a writer? Whose writing do you think has influenced you the most?
LISA:
Laurie is one of my influences as a human. Her career, the subjects she's tackled and how she's handled challenging responses to her work are all an inspiration to me. I never actually read
Speak
until after
Smashed
was written, edited, and delivered to Simon & Schuster because I knew that book also takes on the subject of sexual assault and I didn't want to be influenced by her work in ways that weren't visible to me or get derailed by comparing my work to hers. Comparing is a suicidal tendency among authors. Instead, I read all her historical fiction, which I loved (I'd like to write historical YA, too, one day.) Her writing is amazing. When I did read
Speak
, it actually reminded me in certain ways not only of
Smashed
, but also of the new book I am working on now.
The YA author who influenced me the most is probably Robert Cormier. When I read his books, way back in the late nineteen-eighties, I said to myself, I want to write like this someday. Archie in
The Chocolate War
inspired my Alec in
Smashed
. From Archie, I learned that a clever antagonist is the most intriguing and can be the most despicable. S.E. Hinton is a close second. From her I learned it is all about heart.
ME:
Smashed
is an extremely clever title with multiple layers of meaning. As many readers of this blog know, effective titles are very hard to devise. How did you come up with this one?
LISA:
I'm notoriously bad at titles. In high school and college I would hand in my short stories (and other papers) without titles, which frustrated my teachers. I came up with one title I was proud of in my entire college career. In high school, when a short piece of mine was published in our school's literary magazine, I handed it in untitled and the student editor gave it a title I loathed. You'd think I'd have learned from that.
I had a working title for
Smashe
d that was horrible, so when the time came to come up with the real thing my editor and I got on the phone and decided to start brainstorming all the words we could think of connected to the book. Smashed was one of those words and we chose it precisely because of the multiple meanings. That's what I love best about it.
ME:
Your protagonist, Katie, faces some very difficult challenges throughout the novel, many of them a result of her own questionable choices. In other words, she's a morally complex character. How did you go about creating her? Did she come to you fully formed, or did you have to spend a lot of time during the drafting process getting a handle on who she is?
LISA:
That's a tough question. My main characters so far have always come to me wholesale, at least the essence of those characters has. I feel like I know them from the start. Much of what they do flows out of me from that essential knowing. But that said, there are times when I hit a wall. What would she think here? What would she do? At times, Katie had to do things I didn't like. I always try to stay as true as I can to this person I've created, as well as to real life and sometimes it takes time and reflection to accomplish—or rewriting when I realize I've gotten off course.
ME:
One of the recurring themes in the novel is the impact of a parent's conduct and choices on the lives of their children. Were you consciously playing with this idea in the drafting or was it something that came out organically in the writing?
LISA:
Parental impact is something I tend to think about a lot, as a daughter and a mother, a former high school teacher, and in just observing the world, so, yes, I guess I was playing with it. It also came organically in the sense that it was part of building a realistic situation and characters. I had to ask myself, why can these two teenagers be out in the middle of the night—all night actually, the night of the crash—and no one has called the police? Where are the parents? What kind of home life might contribute to Katie's low self-worth? What kind might produce an entitled young man who believes he should get whatever he wants and if he doesn't he will take it? So I wrote to answer those questions and others. And sometimes there's inspiration. I remember that I woke up one night early on in the writing and I said to myself, "Katie's father disappeared." From that moment on, it was just a fact. I just had to fill in all the details.
ME:
What are you working on now?
LISA:
The book I'm writing now is about ¾ drafted and (surprise!) does not yet have a title. It's set in the same town as
Smashed
, but with entirely different characters. The challenge I set for myself this time is I have two very different narrators with very different voices. Becca and Skye's lives become intertwined and they end up telling parts of the same story from different vantage points. I like figuring out how to best do this from scene to scene, especially scenes they are both in, because information is provided slowly to readers and other characters one piece at a time. I don't want to talk about the plot, because there are elements that are meant only to be revealed as you go and I will ruin it. I will say that although one is primary, there several story lines and among them you will find secrets, lies, sex, love, and death: that is,
life
.
...
Thanks for joining us on the blog, Lisa! We look forward to your next book!!!