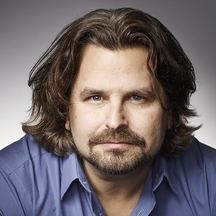 I'm delighted to host the second appearance on the blog by Geoffrey Girard who first spoke to me about his work a

few years back

. Geoffrey has been busy writing, and teaching writing, in the meantime and, not only did he kindly agree to share his thoughts with readers on his work, but he's also offering to give away a signed copy of his new short story collection,
first communions
to a lucky blog reader. (See contest details below.)
When I asked Geoffrey some searching questions about his recent work, here's what he had to say ...
KC:
You last appeared on the blog almost exactly two years ago. What have you been up to in the meantime?
GG:
A lot of it was spent navigating the realities of New York publishing. Both of my editors moved on to other opportunities before my
Cain
duology was published, and they were replaced by people who didn't know me from Adam and "didn't like thrillers." One publisher left the company quickly/unexpectedly. One literary agent left the company quickly/unexpectedly. So, projects that should have come out in 2015/16 got lost in the shuffle of me letting the dust settle and finding friends again. New/next novel –
Truthers
, about a girl who may be part of the 9/11 conspiracy – comes out in 2017. Also, I wrote some stand-alone stories for various anthologies and started working on my MFA and pulled together this debut collection:
first communions
.
KC:
You write in many genres including short stories, children's novels and adult novels. We've talked specifically about your novels before, but how would you compare the novel writing process with the process of writing short stories?
GG:
I really kinda approach both the exact same way. I find a topic/theme I want to write about. I do research (some for a story, a ton for a novel), and then I noodle for a while (weeks, months) and come up with some characters that would work/struggle great within that world; start thinking about scenes. Usually have the first one locked before I start and an idea of the last scene. Then I play connect the dots and see what happens. Sometimes I'm off in the planning… but you get to the end. I may give the reader more of a "break" in novels than short stories; for those, I'm presuming full attention for 10 minutes, so often require a more-careful reading; most aren't for speed-reads. They're for a good curl up at the end of the day.
KC:
What was the impulse behind collecting your stories together for the new anthology? Do you have a favorite story in the book?
GG:
I've been writing professionally for more than ten years now. Felt it was time to collect all my standalones into one place. Easier for folk to find me, and/or read some pretty good stories. There's horror here, and sci-fi, and dark fantasy and urban fantasy. A real grab bag of speculative fiction. If folk like Stephen King's short stories, or darker Bradbury or Kelly Link… this'll be a good one for you! I love short fiction as a reader, so certainly hope to do one of these every decade or so. Fave is tough. My safe answer is "Dark Harvest" because it's the one that got everything started (first fiction I was ever paid for, my ticket to a whole week spent in Hollywood with
Writers of the Future
where I decided to write for real,
and
a direct connection to my reader epic-fantasy roots; young Geoffrey wanted to be Terry Brooks and/or Mary Stewart.)
KC:
As well as being a writer yourself, you also teach creative writing. What's the most important thing you think an aspiring author should know? What's the most difficult thing to teach?
GG:
Best advice I ever got was: You can't start a new project until you finish the one you're working on. I didn't get that gem until I was 35. Within five years, I'd sold four books and a dozen stories. Prior to that advice, I was batting .0000. As far as tough to teach, time gets in the way. I can show young writers things, like my guitar teacher showed me things, but ultimately… you gotta go away for a few months, years, and do those things over and over until the payoff comes. A few tricks you can pick up BOOM!, but mostly, only time is going to bring the true skill. There are, of course, still many things I'm working on. And someday, with time, I'll likely get 'em.
KC:
Where can people find more information about you and your work?
GG:
www.GeoffreyGirard.com
, or find me on Twitter or Facebook. Or, your local writer/speculative convention or event.
Thanks for sharing your thoughts, Geoffrey, and now for the contest ...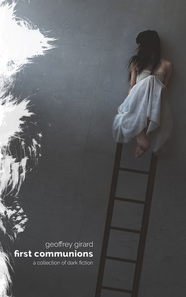 Geoffrey will send an autographed copy of his new short story anthology, first communions, to one lucky reader/commenter on this blog post.

To enter, simply answer the following question in the comments section below.

Who is your favorite speculative fiction (ie sci-fi, fantasy, paranormal) author, book or story?

The winner will be chosen by the following highly scientific method.

I will print out all the comments and toss them into a hat. I will then ask one of my children to randomly pick the the winner. I will contact the winner via email to arrange shipment of the book.

The contest will be open until midnight Eastern Time on Sunday May 8, 2016 (MOTHER'S DAY). So make sure you comment by then to be in the draw. Please make sure you include an email address when you post your comment so I can contact you to arrange shipping. Email addresses will NOT be made public and you will not be added to any mailing lists (I promise because I have no idea how to do that!).

The contest is open to readers within and outside the United States, so anyone out there in the wider world, feel free to enter.

Thanks for the interview and for the contest, Geoffrey. Let the comments roll ...

The contest is now over and the winner is Hannah Hale. Thanks to everyone for reading, and congratulations to Hannah!