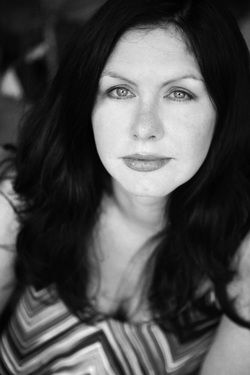 I am thrilled to be presenting an interview with YA author
Mindy McGinnis
on my blog. As readers will know, her debut novel,
Not a Drop to Drink
, was one of my favorite new books of 2013. I reviewed it previously
here
.
I had the pleasure of meeting Mindy at the Northern Ohio SCBWI conference last year which is when I first became aware of her work, and was pleased to find out she's continuing the Not a Drop Series with a forthcoming companion novel later this year (more below).

Here's what Mindy had to say when I asked her some questions about her work ...


KC
: I loved your debut novel,
Not a Drop to Drink,
which deals with a dystopian future world with precious little water. Your heroine, Lynn, guards her pond with her life. It's a unique take on a dystopian future. What gave you the idea for the book?
MM:
I watched a documentary called Blue Gold, which is about a projected shortage of potable water on our planet due to overpopulation. It was a horrible thought - we all need water to survive, and it's something we can't make. I went to bed very grateful for the small pond in my backyard, and that night I dreamt I was teaching a young girl how to operate a rifle so that she could help me protect the pond. I woke up and thought, "Hey... I wrote a book in my head just now."
KC:
As a character, Lynn is like a number of recent YA protagonists who have had to sacrifice emotion for survival. She has been largely starved of love and finds it difficult to trust anyone else, but eventually is forced to confront these emotions. What were the main challenges for you in writing a character like this?
MM:
She's very cut off, by necessity. Feelings for other human beings is what will make her hesitate to pull the trigger, and she needs to do exactly that in order to survive. Mother has raised her without empathy, but as it's a natural human state it's something that grows in her once she branches out socially. I think the biggest challenge was writing someone who can coolly snipe a perfect stranger and still make her likable. Showing that she truly believed she had to do this in order to survive was the key.
KC:
Some would argue that the YA dystopian market is getting overcrowded. How did you overcome this perception in your path to publication? Or was it not a problem in practice?
MM:
I agree that dystops are everywhere and people are more than likely sick of them. Luckily, DRINK evades the genre label because it's not a dystopian in the true sense of the word. There is no overarching evil government or rebellion or uprising... this is simply a survival story. That came through to the editors when this was on submission. At first I was worried that the backlash would be there, but I've had lovely reviews and readers are enjoying it, calling it a fresh take on a tired genre. That makes me feel pretty good.
KC:
At least one of your reviewers has compared your story to Laura Ingalls Wilder's books, but set in a dystopian future. How do you feel about that comparison?
MM:
Awesome! I love Laura Ingalls Wilder, and survival stories in general. I think it's a good comparison, as a lot of DRINK deals with the everyday challenges that face Lynn. Chores. Work. Water. Wood. Survival. It's not all gunfights and heartbreak and drama. Somebody has to cook supper.
KC:
I was thrilled to hear we can expect a new book from you this year that may be part of the
Not a Drop to Drink
world, although not necessarily a sequel to it. Is there anything else you can tell us about the new book?
MM:
I'm excited that people are excited! :) I can't say much yet, but the book is titled
IN A HANDFUL OF DUST
and will be available September 23, 2014. It's not a sequel, but rather a companion novel.... and that's really about all I can say right now!
KC:
Who are your favorite YA authors today? What are you reading now?
MM:
My favorite YA authors would be Margo Lanagan, Rick Yancey and Patrick Ness. I tend to the darker stuff. Also within my 2013 debut year my favorite titles were by Stephanie Kuehn and Kate Karyus Quinn. Like I said, the dark!