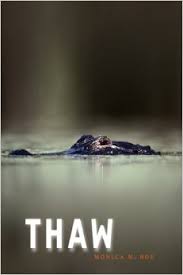 This week I'm thrilled to present an interview with author and recent VCFA MFA grad (of the Darling Assassins variety), Monica Roe. Monica is simply one of the most genuinely wonderful supportive folks I know in the writing community as well as being a genuinely wonderful writer as well. Rare combination!
When I asked her some questions about writing her novel
Thaw
and about her writing process and her MFA experiences at VCFA, here's what she had to say ...
KC:
Thaw
is a very unusual book in that it deals with a protagonist coping with a difficult recovery from Guillain-Barré syndrome. What gave you the idea to write the book? You are a physical therapist yourself. Have you had a lot of experience with the syndrome?
MR:
The original idea for
Thaw
took root when I was completing one of my clinical rotations at a rehab facility very similar to the one depicted in the book. The physical recovery process from Guillain-Barré --or from any neurologic condition or significant trauma--is such an intense and personal journey. As a physical therapist, I've had the privilege of accompanying my patients along a specific portion of this road and it has always fascinated me how different individuals will approach the process. Some people are extremely motivated and ready to push themselves, others have a lot of suspicion toward the whole process and will not hesitate to express this. Many (if not most) are also--quite understandably--dealing with anger, loss, fear, and other factors that can complicate things still further.
When I first had the idea to write this story, I wanted to create a protagonist who would not immediately buy into the idea of going through rehabilitation, someone who is in denial (in more than one way), who would have unrealistically high expectations (not least of all for himself) and who would have a very difficult time learning how to actually let himself be in any way vulnerable or dependent upon others. So, of course, I stuck my protagonist in pretty much one of the most physically vulnerable situations imaginable, then sat back to see how he would struggle through.
KC:
You wrote the book in the first person which must have been a challenge when the character is largely immobile for much of the book and has to rely on his observations rather than his own actions. What were some of the difficulties you faced in keeping the narration moving while the character himself was so immobile?
MR:
This is a great question, and it did prove to be one of the primary challenges I faced in early drafts. I started off with Dane being almost completely paralyzed, which significantly alters the pacing of typical physical action. So much of those early scenes have Dane being stuck primarily in his own head, so I tried very hard to make sure that his voice was sharp, engaging, and observant (if more than a little insufferable at times!).
The biggest thing that I ended up doing, though, was to chop the narrative structure into two parallel timelines--one in the immediate present, when Dane is going through rehab, and the other one in the 3-4 weeks leading up to his initial collapse. Pre-GBS, Dane was extremely physically active, a champion Nordic skier, and an avid explorer of the outdoors, so that half of the narrative was infused with a lot of physical action. I initially wrote the whole thing in chronological order from start to finish….and it quickly started to drag. To try and address this, I chopped the book right in half and shuffled all those scenes together like a deck of cards to see if it would help move things along. I ended up liking the parallel structure a lot better, so I tweaked it around a bit for consistency, and turned the pre-GBS thread into a series of flashbacks that Dane has as he's struggling to regain his physical function and unexpectedly starts to evaluate some of his life choices in the process.
KC:
Your protagonist, Dane, isn't the most likable guy. He's often thoughtless or insensitive and kind of self-focused for much of the book. What challenges did you face as a writer creating a character that the reader might not immediately "like" as a person?
MR:
Poor Dane. Readers and reviewers have either despised him or adored him--and sometimes a bit of both.
Dane is no Peeta Mellark or Augustus Waters. He's not an easy person to like, and even harder to empathize with. It was definitely a challenge to try and strike a balance that would convey his cold and often-impalatable personality, yet keep readers sufficiently engaged to keep turning pages, instead of chucking the book out the nearest window.
I did not want Dane to be a nice person at the beginning of the story, primarily because it would have been way too easy to empathize with him. Who wouldn't want to root for an athletic, intelligent 18-year-old boy who has been so suddenly struck down by this inexplicable and incapacitating disease, right? Of
course
we would want to see him prevail, want to cheer him on, want to know why his girlfriend could be so heartless as to leave him…hey, wait! This guy is actually a cold, self-absorbed, condescending jerk! Now we're feeling torn….our expectations have been just a little bit subverted and I think that can ratchet up the stakes for the reader, yanking them back and forth between sometimes wanting to punch this arrogant guy in the nose and sometimes wanting to understand just what has made him this way in the first place.
Personally, I am quite drawn to unsympathetic protagonists because---to quote my friend and fellow VCFA grad, Marissa Graff---they feel real. They inhabit that shadowy and all-too-human part of us that often
isn't
heroic,
isn't
loving or self-sacrificing or noble. People--real people--are messy. Messy, complex mashups of good and bad traits, the lovable and the infuriating, the raw and the painful and the downright ugly. We often do not like them, I think, because they show us too much of….well, of ourselves, really.
Well-executed, I think that creating a protagonist who is able to walk that line between infuriating and compelling can be one of the most rewarding types of character to write.
KC:
The book is set in a treatment facility in Florida. The setting does a lot of work in the book and almost seems like a character in and of itself. How did you go about incorporating setting so thoroughly into the story as part of the writing process?
MR:
As you've already noted, Dane spends a lot of time inside his own head during much of the story. The fact that he was always a person with an intense interest in the natural world was a huge help here. Dane was a person who's in his own head a lot long before being hospitalized, partly because he doesn't really think that many people are worth his time or attention, but also because he truly does love biology and botany, astronomy and zoology. He prefers his own company and he thinks a lot about what he observes. Much of that, of course, is eventually revealed as the protective mechanism that it truly is, and I think that Dane employs a similar subconscious coping strategy to help take him out of the physical reality of where he is and what he's facing.
KC:
You have recently graduated from the MFA program in Writing for Children and Young Adults at Vermont College of Fine Arts. What made you decide to pursue the MFA and how has it informed your writing process?
MR:
Great question. Writing school was always something that I dreamed about in some small corner of my mind, but never really let myself consider as a serious path. Much of that was probably driven by fear, or perhaps I simply lacked the self-confidence to ever think of myself as a "real" writer. This is a good example of how much we can get in our own way, because I continued to hoard that niggling core of self-doubt long after
Thaw
was published. When I met the man who would eventually become my husband, there came a point in our relationship when I finally got up the nerve to admit that I'd always wanted to apply to a writing program. True to his wonderful nature, the first thing he said was, "Well, where do you want to apply? You need to do this!"
Coming to VCFA was one of the best things I've ever done for myself--both as a writer and as a person. Becoming part of such a vibrant, intense, and brilliant community has been nothing but a gift. We are all at different points in our writing journey, but we are companions on the same road and that's nothing short of magical. It terms of my writing process, VCFA has taught me how to take creative risks and how to get out of my own way, write from my gut, and to trust the process.
KC:
What are you reading now?
MR:
At the recommendation of my good friend and fellow VCFA graduate Ibi Zoboi, I am currently in the middle of
Create Dangerously,
by Edwidge Danticat. My current queue also contains
Burning Nation
(the second book of the
Divided We Fall
trilogy, written by the amazing Trent Reedy),
Ellen Foster,
and
The Girl Who Circumnavigated Fairyland in a Ship of Her Own Making.
I also just ordered a copy of
The Golden Bough,
which, given its size and scope, I will probably bite off in somewhat smaller pieces.
KC:
What are you working on now?
MR:
I have a couple projects brewing at the moment, all in various stages of completion (disarray?). About all that I can say is that my current project is loosely historical, very speculative, and a little disturbing (even to its author). More on that as emerging details and creative process allow! :)
Good luck with those projects. Disturbing or not, we look forward to your next book!Thanks for sharing your writing thoughts with us.