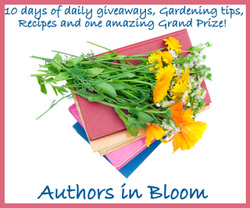 So I'm going out on a limb here with the authors in bloom blog hop because I'm not great at recipes or gardening! Believe it or not, my hubby and kids like all those "spring" things better than I do. I'd rather sit in a cozy chair and read cozies ...
The recipe tip here comes from my six year old daughter and is a bit of a cheat. After buying an "M & Ms" cookbook at the Scholastic book fair recently, she has come to the conclusion that ALL recipes can be improved with M & Ms. And her three year old sister calls them "nummy nums" (think about it folks, or at least say it out loud and you'll see what I mean). So try baking your standard cake or cookie and adding a bunch of M & Ms on top and see if it doesn't improve on the original recipe.

For my own personal giveaway, I'm offering a copy of each of my romance e-novellas: Destiny, Dear John, and Ivory Tower. To be eligible for these books, please leave a comment below including a gardening or cooking tip and make sure you include your email address so if you win a prize I can email the e-book to you. Email addresses will not be made public. I will choose the prize winners by random draw. Contest closes on April 16, 2014.

By leaving a comment with email address you will also be eligible for the Blog Hop Grand Prizes ...


Authors in Bloom Prizes Grand Prize:
A Kindle or Nook e-reader ($200 value) +$25 gift card (US only)
Second Prize: $25 e-reader gift card (international)
Author Prizes will vary. Note that only visitors who leave comments at each and every stop on the tour will be eligible for the Grand Prizes and Second Prize. Winners will be posted on the first (Dianne Venetta) and last (A Cozy Reader's Corner) stops on the tour.
Good luck to all of you! I hope you discover some fantastic new authors along the way!
Link to list of authors here.