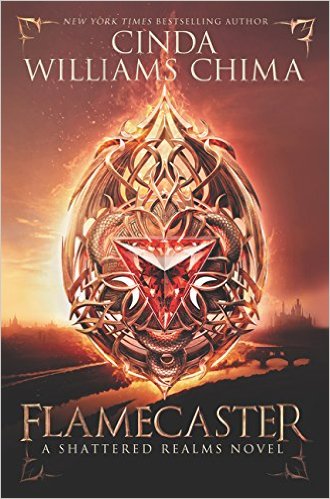 I'm a big fan of
Cinda Williams Chima
from way back. I have read – and loved – all her books which means ALL of the
Heir Chronicles
as well as the original
Seven Realms
books. How absolutely sublime that Chima has returned to the Seven Realms world, but some years after the closing of the original series. This new series – the
Shattered Realms
– follows the trials and tribulations of the generation succeeding the main characters in the Seven Realms.
While this first book in the new series,
Flamecaster
, has a lot of work to do in introducing the new cast of characters, settings and issues to come, Chima pulls it off brilliantly in her usual highly engaging style. Despite the need for chunks of backstory, the book flows along at a fast pace and keeps the reader (definitely this reader!) engaged from page 1 to page 535. Yes, it's a long book, folks, but worth the read and it certainly doesn't feel long when you're reading it. I tore through it in a day. The new protagonists are as engaging and empathetic as the preceding generation, but they're all quite different too. They have new skills and new challenges to face, and I love the fact that there are some kick-ass heroines as well as hunky, smart and tortured guys.
My favorite is lead character Adrian sul'Han (Ash) who is the son of two of my favorite characters from the original books. Need I say who? He takes on the mantle admirably and has a lot of tough choices to make between duty to, and love for, his family, and – hopefully without giving too much away here – a bit of a revenge quest. Along the way he meets spy and saboteur Jenna who is one of my favorite YA fantasy heroines so far. There's also a couple of apparent bad guys in there who look to be much more than they seem. I'm so intrigued to see what's up with Evan in the next book. In fact, I can't wait for the next book in general!! Whether or not you've read the
Seven Realms
series, you can certainly leap into the
Shattered Realms
and immerse yourself in top class YA fantasy with a touch of romance and a lot of magic. In other words, Cinda Williams Chima has done it again!