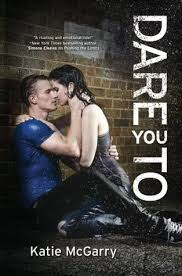 Just read the second in Katie McGarry's Pushing the Limits trilogy (Dare You To) and I was a little disappointed. Not because it's not a good book. It is. But McGarry set the bar so high with angsty teen romance in the first book that I don't think anything could really compare. I read Pushing the Limits in a day. I couldn't put it down. Noah and Echo's entwined stories were heartbreaking, sensitive, and powerful. In contrast, Ryan and Beth's stories in Dare You To seemed a little more contrived. Beth was a character who I felt was almost more developed as a secondary character in the first book than as a primary character in her own story. McGarry seemed to take a lot of the edge off Beth when she made her the lead character in a rural town setting. Beth thrived so powerfully in the gritty urban setting of the first book. I didn't get a strong enough sense of culture clash in this one to be believable. And McGarry also pushed Isiah (from Beth's past) into the background a little too conveniently in this installment. The addition of Ryan as the romantic lead - although an interesting and solid character - simply didn't have the complexity of Noah in the first book. The challenges he faces within his family, and outside, didn't rise to the power of the challenges Noah faced as the lead in Pushing the Limits.

On its own, Dare You To, is a strong enough story about love and trust and coming to terms with who you are. But it pales in comparison to the first book which dealt with all that and more - the mystery of Echo's past and her scars, Noah's struggle to look after his younger brothers and deal with the welfare system. There was a lot more going on in the first book. And the addition of the baseball-focused storyline in Dare You To didn't do it for me. McGarry says in the Q&A at the back of the book that she did a lot of research on baseball and it shows. And for those who really like baseball stories this will probably be a big draw.

Overall this is a solid second installment to the trilogy and I'm looking forward to seeing what McGarry does with Isiah's story in the third book - her writing is great and I'll definitely be reading the next one. I only hope she recaptures some of the magic of book 1 in book 3. Not saying book 2 isn't worth the read - it's engaging and sensitive and entertaining, but I want McGarry to bring back the magic she infused her first boover her first book when she comes to the third!