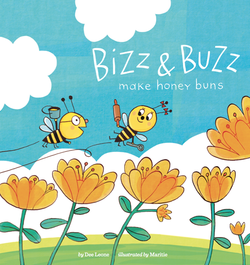 This week I am thrilled to be presenting an interview (+ exciting giveaway contest) with my good friend and debut author,
Dee Leone
. Her concept book,
Bizz & Buzz Make Honey Buns
will be published by Penguin on June 26 and is available for
pre-order
now. This blog post also marks the FIRST time I am hosting a concept book author on my blog. So double thanks to Dee!!!
When I asked Dee some searching questions about her buzzing bee friends, here's what she had to say. She is also going to give away a copy of the book to a randomly chosen commenter on this blog post (see details following interview).
================



Thanks for asking me to be a guest on your blog, Kaleigh. I feel honored to be the first author you've interviewed who's written a book for such young children.

KC: Bizz and Buzz are hilarious little guys who have some trouble with words. Can you tell us a little about their problems?


DL:
The two characters enjoy feasting on honey buns baked by Bear. When the bees want to make some themselves, their friend relays the recipe one step at a time, but Bizz and Buzz interpret the directions in silly ways. Their first mistake is to use a little
flower
instead of a little
flour
. In addition to making a few missteps with homophones, the insects misinterpret other concepts as well. The
bizzy
little bees create a sweet treat that differs greatly from Bear's, but they end up as happy as can
bee
anyway.

KC: How did you come up with the idea of the bees as main characters?

DL: When I wake up in the morning or in the middle of the night, sometimes story ideas just fly into my head. I keep a note pad on my nightstand so I can write down my thoughts before they disappear. There are times when I can't decipher what I've written in the dark. Luckily, Bizz and Buzz were morning critters.

The idea to have the bees use the wrong ingredients was probably due to the fact that I was stressed about having to prepare food for an event. It's just as easy for me to mess up a recipe as it is for my zany little bee characters. When I'm in charge of the menu, you might get something like Cloudy with a Chance of Meatballs, or worse, plums with a chance of worms... but that's another story.

KC: What other kinds of messes are we likely to see Bizz and Buzz get into in the future?

DL: There are plans in the works for Bizz and Buzz to bungle their way through several more adventures. If all goes well, look for these characters to misinterpret idioms, misidentify holiday figures, and use their talents to join a band. I love these little buggers! My greatest wish is that they will buzz their way into the hearts of children everywhere and motivate them to bee-come readers for life.

KC: You have been working on various different kinds of books as an author/developer - educational puzzle books, middle grade, verse, and easy readers. What is your favorite type of book to write, and why?


DL:
Ha! That's like asking what kind of ice cream, chocolate, or pasta I like best. I don't have a favorite type of book to write. When one type of project has me stumped, I set it aside and work on something else. I'm better at letting my manuscripts marinate than my steaks.
When writing picture books or leveled readers, I love the challenge of creating stories with so few words. They're rewarding to write because there's always the possibility of helping to foster a child's love of reading at an early age when life-long habits can be established.
Silly verse is also one of my passions. I have a whole collection of school-related poems that I'm in the process of revising. I love to work with rhyme… anywhere, anytime.
I enjoy penning middle grade novels because they tend to rely heavily on voice, a fun aspect of writing for me. I especially like creating characters with humorous sarcasm. In school, I was the shy kid. Whenever the class clown acted up, I had the desire to be funny, too, but only had the courage to show it through writing.
When I was growing up, my mother kept a box full of surprises we could choose from when we became ill. I loved language arts
and
math, so I often chose books with word challenges and cryptograms. I didn't mind getting sick from time to time because I enjoyed solving those brainteasers. No wonder I created hundreds of educational puzzles!
KC:
What are some of your own favorite children's books?
DL:
I really don't have a favorite
anything
except for a sport… gymnastics. So to answer the question, I guess I'll tell you some of the books I enjoyed reading to my students and to my daughters.
Picture book favorites included anything illustrated by Tomie dePaola, Jan Brett, Eric Carle, or Dr. Seuss. I also had a fondness for sharing
The Rainbow Fish
and
The Ice Cream Cone Coot
. For elementary school children, some of the ones at the top of my list were: the Ramona and Amelia Bedelia books,
Charlotte's Web, The Cricket in Times Square, Mrs. Frisby and the RATS of NIMH, Tales of a Fourth Grade Nothing, Where the Sidewalk Ends,
and
The Best Christmas Pageant Ever.
As far as other favorites, my girls had about a half dozen versions of each Disney story. We lived in Orange County and could see the Disneyland fireworks from our house. We were even visited by cute little field mice the first few days after moving in until we found out how they were entering. The girls named every one of the critters "Mickey Mouse" or "Minnie Mouse" and wanted to hear Disney story after Disney story. One of my greatest wishes is to write something for that company, too... someday, somehow!
================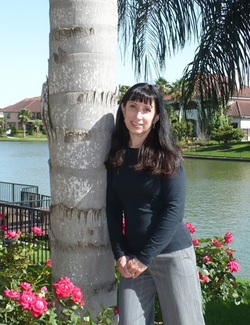 Thanks for the interview, Dee. And now for the contest(s) ....
For a chance to
WIN
an autographed copy of Dee's book, please leave a general comment or a suggestion at the end of this blog post about what kind of adventure you'd like Bizz and Buzz to have next. All those commenting by midnight June 26, 2014, are eligible.
Make sure you leave an email address when posting your comment so Dee can contact you and arrange to send you the book if you're the winner. Email addresses will not be made available publicly.


FREE
funsheets and bookmarks, as well as additional
CONTESTS
(Rafflecopter and Goodreads) can be seen on
http://bizzandbuzz.weebly.com
.


FOLLOW
@bizzandbuzz on Twitter for yet another chance to win a book.
UPDATE: CONTEST WINNERS LISTED HERE.