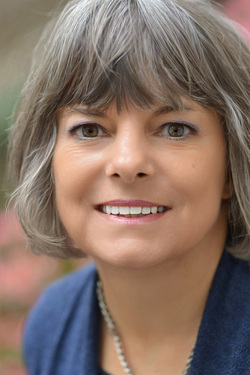 What an absolute treat it is to bring you an exclusive author interview with Cinda Williams Chima, New York Times bestselling Author of the
Heir Chronicles
and the
Seven Realms
series in anticipation of her new (and final) book in the
Heir Chronicles
series,
The Sorcerer Heir
, coming out next week! Cinda has also graciously offered a giveaway of her "Instant Gratification Romance Package" which includes a copy of
The Enchanter Heir
AND
The Sorcerer Heir
along with a
Sorcerer Heir
poster ALL SIGNED by Cinda. Now, that's what I call instant gratification!! See details below for contest.
First, some info about Cinda for those who've been living under a rock and haven't yet discovered her work ...

New York Times bestselling author Cinda Williams Chima grew up with talking animals and kick-butt Barbies. She nearly failed first grade because she was always daydreaming instead of listening. By junior high, she was writing novels in class, which were often confiscated. Cinda believes in the magic of books. Books took her from first grade failure to first generation college graduate to college professor to New York Times best-selling author of two teen fantasy series. The Heir Chronicles is a contemporary fantasy series set in Ohio. The Seven Realms series is a traditional fantasy set in the long ago and far away. All of her novels involve wizards behaving badly. These days, Cinda daydreams on the page. Visit her at cindachima.com. Follow her on Twitter @cindachima
When I asked her some questions about her work, here's what she had to say ...
============

KC:
You have written both urban fantasy novels (the
Heir Chronicles
) and more classical fantasy (
The Seven Realms
). Which do you prefer to write, and why? Is it more challenging to work with a completely made-up world, or to incorporate fantastical elements into an existing world?
CWC:
There are pros and cons of each. There is a misconception that contemporary fiction requires little in the way of world-building. The truth is that all novelists engage in world-building. With the Heir Chronicles, I have to make Ohio real to people who have never been here. Plus I still have to construct a believable magical system. I do find that contemporary fantasy set in the real world is often more accessible to non-fantasy readers.
With classical fantasy, the challenge is to put readers in your world without overwhelming them with detail. Many non-fantasy readers equate reading high fantasy with hacking through a thicket of words. I try to deliver setting on a need-to-know basis. I believe that the reader with a few questions is more likely to stick with me than the reader who is overwhelmed with verbiage.
KC:
To date, all of your novels have been for young adult audiences. Is there a particular reason you started writing for that age group? What do you see as the key challenges in writing for younger audiences?
CWC:
I wrote my first novels in junior high school, and they were, by default, young adult novels. Years later, I tried writing novels for adults, but never finished a single one. When my sons became teenagers, I enjoyed sharing books with them, and was impressed with the quality of the YA fiction that was out there. I thought I'd love to write something we could all enjoy reading. I had this idea about a high school student in Ohio who discovers he's among the last of a guild of magical warriors. That story became The Warrior Heir, my first published novel.
KC:
The final book in your
Heir Chronicles
series,
The Sorcerer Heir
, comes out on October 21 (I can't wait!). Is this the end of that series or do you think you might revisit it one day?
CWC:
I've learned to never say never, but my plan is that it is the end of the series.
KC:
The first three books in the
Heir Chronicles
featured a particular set of characters and settings (notably Trinity, Ohio). You then moved to a largely new set of characters, a slightly later time period, and a largely new setting in downtown Cleveland for much of the action in the fourth book,
The Enchanter Heir
. Was this the plan from the beginning, or was Jonah and Emma's story one that emerged as you were writing the earlier books?
CWC:
I had no plans for Jonah and Emma when I finished the first three books. I immersed myself in the Seven Realms, my high fantasy series. I kept hearing from readers who were fans of contemporary (urban) fantasy who were eager for me to revisit the Weir. I wanted to do something a little different, and so conceived the notion of "mutant" Weir. I've always worked with an ensemble of characters throughout the Heir series, using a different point of view with each book.
KC:
As readers will know,
The Enchanter Heir
ends on a cliffhanger which your faithful readers assume will be resolved in
The Sorcerer Heir.
Cliffhangers can be annoying because they can come across as cheap shots to maintain reader interest between books. I didn't read
The Enchanter Heir
that way. It seemed to me this was the beginning of a clear two-book story arc and that the ending of
The Enchanter Heir
was appropriate in that context. Is that how you conceived it? Did you know when you started writing it where/how the book would end, or did it become apparent when you were writing that it was the best breaking point for the story arc? Did you consider other endings for that book?
CWC:
From the beginning, I intended The Enchanter Heir and The Sorcerer Heir to complete one story arc that could be read independently from the original three books. Because of the four-year lag between the two parts of the series, I knew that readers unfamiliar with the original trilogy might pick up the later books. I wanted to tell a complete story that would be satisfactory on its own. That said, Ive been getting a lot of heat from readers who are unhappy with the cliffhanger at the end of The Enchanter Heir. if I had it to do over again, I might have coasted to a gentler stop. The good news is--I clean up my messes. I think readers will find resolution with that fifth book.
KC:
The young adult market has grown in leaps and bounds in recent years, notably spurred by popular science fiction and fantasy titles. What are some of your favorite young adult books and who are some of your favorite YA writers? What are you reading now?
CWC:
Oh, there are so many books! Being a young adult writer enables one to be unread in several different genres. Recently I've read Andrew Smith's
Grasshopper Jungle
, John Green's
The Fault in Our Stars
, Elizabeth Wein's
Code Name Verity
, and Sarah J Maas's
Throne of Glass
series. I'm especially fond of Robin LaFever's
Grave Mercy
Series. And anything by Maggie Stiefvater. I also recently read
Crown of Thorns
, about Mary, Queen of Scots.
================
Thanks so much for answering my questions ... and now for the contest ....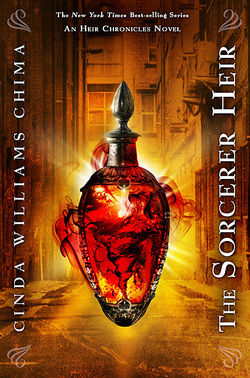 Cinda has offered to send an "Instant Gratification Romance Package" to one lucky reader of this blog. The package includes a copy of each of The Enchanter Heir and The Sorcerer Heir along with a Sorcerer Heir poster, all signed by Cinda.

In order to win, simply comment on this blog post (in the comments section below) and answer the following question:

If you could have one magical power to use in your everyday life, what would it be?

The winner will be chosen by the following highly scientific method.

I will print out all the comments and toss them into a hat. I will then ask one of my children to randomly pick a winner. The contest will be open until midnight Eastern Time on October 26, 2014. So make sure you comment by then to be in the draw. Please ensure that you include an email address when you post your comment so we can contact you to arrange shipping details. Email addresses will NOT be made public. (They are an optional field when you post a comment.)

Thanks for the interview and for the contest, Cinda. Let the comments roll ...

UPDATE: The winner of the contest is MOLLY MORTENSEN. Congratulations, Molly, and thanks everyone else for participating! And thanks to Cinda for offering such a great giveaway.