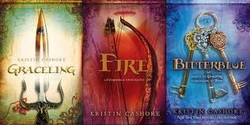 I listened to most of this trilogy on audiobook, although I read the first one in text format. And I kind of wish I'd read the third one as text because, as some Audible reviewers had pointed out, some of the accents used in the third book (Bitterblue) seemed unnecessary and annoying. This trilogy has an interesting structure in that it jumps around in time and place in unusual ways. The first book is a standard fantasy book that weaves around a number of kingdoms in a mythical land. The second book then goes back in time and shifts place to another set of kingdoms near the lands from the first trilogy but separate from them. The people and animals in this new setting are very different to those in the original book. The third book returns to the settings from the first book but has some crossover with second. It also goes forward in time from the first book. So as a whole the series does a lot of jumping around but it works very effectively. Cashore never loses track of her characters or main storyline. Each book stands alone as an independent story with an independent main character. Some of the characters appear in multiple books to tie them together. Thus, Cashore also manages to tie up storylines from earlier books when we find out what happened to some of our favorite characters. The third book gives us a lot of "endings" for characters that we met in books 1 and 2.

In terms of content, these are really original fantasy stories with characters we can care about undertaking risky missions and developing their personal strengths along the way. While the main characters from each book - Katsa, Fire, and Bitterblue - are very different heroines, they are all characters I could relate to and easily became invested in. The books do stand alone and don't have to be read in order or together at all, but I enjoyed reading them in the order in which they were published. There's action, adventure, nobility, loss and romance but in very original settings that kept me captivated throughout.

The final book - Bitterblue - loses a little bit of the action of the first two and concentrates a little more on the politics of Bitterblue's kingdom than on action and adventure, but there's still a sufficiently interesting plot, romance, adventure and wrapping up of character's stories from the other books. So if you bear in mind before you read it that it's a little more cerebral and political than the other books before you start reading it, you shouldn't be disappointed.