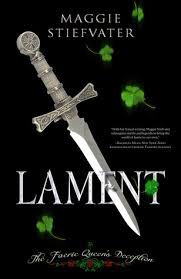 Having read most of Maggie Stiefvater's more recent books, I picked up a second hand copy of Lament recently. It's the first in a trilogy that's currently missing its third book, which makes me hesitant to read book two because I don't want to be left hanging. I actually feel like Lament itself has left me hanging, particularly as I know that the second book, Ballad, focuses on different characters and I still want to know what happens to the main characters from the first book. While Lament does have an ending, it doesn't have a sense of finality. I suppose the same could be said of the ending of the Shiver trilogy by the same author. Stiefvater obviously doesn't mind leaving some big questions about her main characters' futures up in the air, but I didn't really find the ending to the Shiver trilogy satisfying and I'm worried that there won't BE an ending to the Lament trilogy if the third book never appears (or possibly even if it does).

But having griped about endings for a paragraph, I have to say that as with all of this author's books the writing style is simply beautiful and the characters are wonderfully engaging. I can't describe what it is about Stiefvater's style that grabs me so much. It seems somehow different from all of the other YA voices out there even when she's dealing with the familiar themes of growing up, falling in love, and making sacrifices for those who mean the most to us. The plot of Lament evidences shades of Twilight in its dynamics between the main characters (impossible love between creatures of different ages and species), but the setting and context is very different and the writing is transcendent.

Stiefvater herself is an accomplished musician and much of this story revolves around music and the characters' relationship to music. All of the musically oriented passages really shine. It's original and lyrical and engrossing which is why I'm all the more disappointed that there may not be a third book forthcoming. I sorely hope Stiefvater decides to finish the series either before or after she finishes The Raven Boys trilogy.