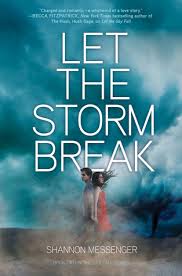 I very much enjoyed the first book in Shannon Messenger's YA Sky Fall series, Let The Sky Fall, but the second book brings the story to a whole new level. While the first book was an intriguing beginning to a unique YA trilogy where the paranormal characters are sylphs who can control the winds, the second book is a cut above. In my opinion, this is because not only do the two narrators (Vane and Audra) have stronger voices and more developed characters this time around, but there are a host of new secondary characters who are wonderful foils for the hero and heroine. My favorite new character is Gus, a guardian who kind of takes on the 'best buddy' role for Vane. The dialogue between Gus and Vane is superb - funny, quirky and also genuine. Vane is coming into himself as the hero of the series and growing to understand both the challenges and the responsibilities inherent in his role as the last of the Westerlies and the potential King of the Gales. Audra is coming to terms with who she is in the wake of the challenges she faced in book one.

The stakes are higher in this book with Raiden on the move, not only to take what he wants but to destroy what he doesn't need. And Audra's mother is back in a secondary role causing a little potential mayhem of her own.

It's easy to drop the tension in a second book in a series, or to introduce so many new characters and plot twists that the reader becomes confused. But Messenger does not fall into any of these traps. She has created a compelling and engaging story that rounds off nicely, but still leaves us needing to find out what happens next. When's the third book coming out????