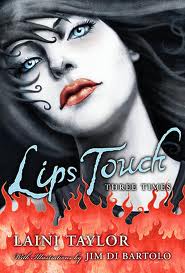 Wow! What an unexpected little treasure Lips Touch Three Times turned out to be. Part graphic novel, part anthology of novellas, this combination effort by Laini Taylor (Daughter of Smoke and Bone trilogy) and Jim Di Bartolo is truly unique. Laini Taylor wrote, and Jim Di Bartolo illustrated, a series of three fairytale-like stories that revolve around the central theme of a "first kiss" but really are so much more. This is billed as a YA book and won several YA awards by all counts, but I couldn't see anything particularly YA about it, other than that several of the characters were young, but many of the key figures in each story were older and the themes were very mature and universal. Each of the stories is very different in style and setting to the others, but they all contain a fairytale/myth-like quality where no one is truly bad and no one is truly good and the endings cannot be classed as happy or sad but are really a combination of both in each case. Taylor drew her inspiration for each tale from existing poems and myths, but created visions that were all her own and that were brought to life in astounding detail and authenticity by Di Bartolo's illustrations. I suppose in terms of YA-audiences, there is nothing unsuitable for younger readers in these stories and they would be great discussion-starters about larger themes in life and about writing techniques generally for those interested in creative writing.

Each story stands alone and they range from about 70 to about 100 pages in length. They could be read alone or together, but even though they're relatively short (at least compared to a novel), you have to concentrate when you read them so you don't miss any of the rich and unusual details. These are not at all light, quick reads, but thought-provoking narratives that you may want to read more than once to get the most out of them.

I'd highly recommend this for anyone looking for something unusual and different with an ethereal old-fashioned fairytale like quality - and especially for those who are eagerly awaiting the final installment of Taylor's Daughter of Smoke and Bone trilogy.