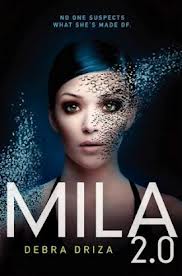 How could I resist this book? Sentient androids - one of my favorite themes. And even though I don't like plugging my own stuff on the blog, one of my e-books (for grown ups, rather than YA -
Destiny
) deals with similar themes involving androids achieving sentience and the meaning of humanity. Driza's book is also reminiscent of one of my favorite YA sentient android stories,
Eden
by Keary Taylor which I think was self-published. It's available on Amazon and I'd definitely recommend it!
So back to the book at hand. I wasn't sure when I was reading it whether it was the beginning of a trilogy/series or stand-alone. So kudos to Driza for keeping me guessing and not creating too much of a cliffhanger. The book has threads left unexplored but still stands on its own - YAY!
(And, yes, I looked it up and it is intended as the first in a new series.)
Some review sites list this story as dystopian and I'm not 100% sure that classification is correct. Unlike, say, Eden (which I mentioned above), Driza's world doesn't seem like a future dysfunctional society, but rather a present-day or close to present-day scenario with augmented science.
The main character, MILA, is compelling and the situations she faces are great opportunities for her to struggle with the question whether she's more of a robot or more of a human. The story structure is a little different from a lot of current YA. It's broken into four separate "parts" and I'm not really sure why. The first part is a clearly separate section of the story that sets up the character and her situation in a small town. The following 3/4 of the book really work as one large "part". This is a small thing, but after the first "part break" I was waiting for three new situations and challenges to follow and this didn't happen. There were also a lot of action sequences (including a couple of car chases) which made the book very cinematographic, but I felt these scenes became a little tiresome after a while. My favorite aspects of the book werethe times it focused on character and what makes us human, so I didn't need quite as many shoot-em-up chase scenes. But they're hard to write in an engaging way and Driza did a good job. So, yes, I'll pick up the next book whenever it comes out, but I hope for less action and more character development.