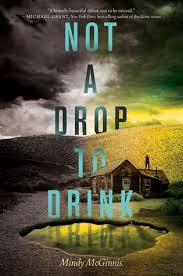 I met debut YA author Mindy McGinnis at the SCBWI regional conference in Northern Ohio this year and was impressed by her quiet thoughtfulness which shines through in her novel, Not a Drop to Drink. One of the cover reviewers of the hardback edition at least (Ilsa Bick) compares McGinnis to a cross between Laura Ingalls Wilder and Cormac McCarthy and I think it's spot on. This is a dystopian novel with a difference. It's not action-packed adventure and excitement. Rather, it's a thoughtful and at times horrifying meditation on the depths to which the human race might descend if a commodity such as water became scarce.

While we hear a little about what's going on in the big cities, this book is set in rural Ohio and is told from the perspective of a girl (Lynn) who has holed up alone with her mother in the family home to protect their water source, their pond, from outsiders. Lynn's mother has raised her to be tough and a survivor, and has omitted social graces and affection from her upbringing. This results in a character somewhat like Katniss from the Hunger Games i.e. a good person who does what she has to do to survive, but who has hidden depths that are discovered when she's finally confronted with the need to accommodate new people in her life.

The pace of the narrative is pensive, but never dull. The setting is contained within a small section of the countryside. Even though there are plenty of woods and open fields, the book has an (I assume intentionally) claustrophobic feel to it. The characters are well drawn and often surprising and the time span is large for such a short(ish) book. It's not a difficult book to read in terms of style - easy and accessible for younger readers. However, it is difficult in terms of the bittersweet themes it contains. A unique take on the modern YA dystopia. I'm glad I picked it up.