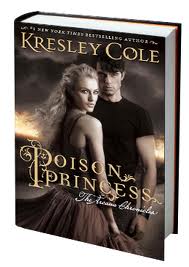 So back to YA fantasy today ...
I actually read Poison Princess (Kresley Cole) a while ago, but had been meaning to share some thoughts about it.
It was on my to-do list. I was intrigued when I first heard that Cole was going to turn her hand to YA - it seems that everyone is doing it these days. I admit that I've read some of her adult fantasy books and there's quite a *lot* of sex in them so I wondered how she'd tone it down for a younger audience. I wasn't disappointed. She's a dab hand at fantasy and has managed to create unusual teen characters and situations even in the increasingly overcrowded field of YA fantasy. Her work is darker than some other YA writers which probably isn't a bad thing. Starting with the relatively safe modern world, everything quickly turns post-apocalyptic, and our heroine (Evie) is somehow involved in the apocalypse and what's coming next but she - and the reader - are left in the dark other than a few clues, including mystical powers Evie wields over plant life. Like some of her adult work, Cole sets the beginning of the book in New Orleans and creates a "bad boy" romantic hero who's a bit dfferent in that he's Cajun and speaks in an authentic dialect. He's dark and dangerous, but we know he's really one of the good guys. The problem is that Evie's secrets may be too much for him - which is part of the cliffhanger at the end of this book. This is intended as yet another series so there's a lot that isn't resolved here. I understand the second book (
Endless Night
) is coming out later this year - October, I think. I'm definitely going to pick it up to see what happens to Evie and Jack and the band of misfits they take up with throughout the first book. I'm also interested to know how Evie and Jack come to terms with Evie's powers. In some ways there are shades of Laini Taylor's
Daughter of Smoke and Bone series
here - in terms of whether the heroine's powers and destiny will prove too much for the bond with the hero.