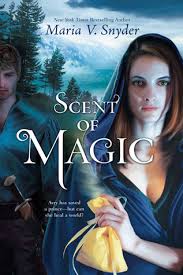 And today it's back to SECOND books in a trilogy as I've just finished Maria V Snyder's Scent of Magic, the sequel to Touch of Power. Even though I generally love Snyder's writing, I was in two minds going in with this book. I had read mixed reviews. Those that hadn't liked the book as much as the first one had complained that there wasn't much interaction between the hero and heroine (Kerrick and Avry). Unlike the first book, this one is told from alternating points of view of the two characters and they are both off on separate adventures. I have to agree with those who made that criticism. What made the first book really sharp was the relationship between Kerrick and Avry and to some extent also secondary character Belen's relationship with each of them. In this book, all three characters spend most of their time apart and Belen doesn't get much page time at all. The chapters in Avry's perspective are in first person and those in Kerrick's perspective are written in third person, but that wasn't so much a problem for me - it was just that we didn't get much of the leads interacting with each other. The other issue I had with this book is that there seemed to be a lot going on, on one level, but it felt like nothing much was happening on another. While there were dramatic political and military machinations afoot, the book didn't have the same sense of urgency and high stakes as the first one. The characters seemed to be taking the challenges a lot more in their stride here and not reacting as meaningfully as in the first installment.

The story also ended on a cliffhanger which I didn't love, but it wasn't too terrible and won't stop me from picking up the third book when it comes out.

Overall, this was a somewhat disappointing second installment, although it was still very readable and I still managed to tear through it in a couple of days. It just didn't hold my attention to the same extent as the first one. I suspect Snyder will redeem herself in the final installment and I am looking forward to it with interest. I think the problem here is that it is a "second book" that needs to position the characters for the final book so there was too much "positioning" and not enough character and emotion. I'm betting the third one will be stronger.