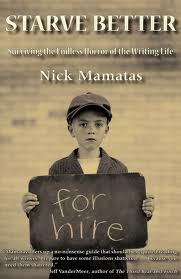 Nick Mamatas has to be one of the smartest people I know - and I use the term "know" loosely. I had the good fortune to take a commercial fiction class with him at UCLA online a while back and he encouraged me to publish what is now
Ivory Tower
and he wasn't even fazed that it's a tongue-in-cheek soft porn/horror/romance/murder mystery focusing on a dean search in a midwestern college town. But back to Nick ...
A classmate from the commercial fiction course recently drew my attention to Nick's new book Starve Better: Surviving the Endless Horror of the Writing Life. Now, I like reading fiction and I like reading craft books, but this is something else.
It's basically a collation of Nick's thoughts on the writing life drawn from blog posts and short articles he's written over the years and tied together with asides in italics explaining how he feels about the issues today. It's not a "how to write" book, but literally a "how to survive writing" book or "how to survive as a writer" tome. And he tells it like it is, not pulling any punches - all with his hysterical sardonic wit which I so miss from when I was a student in his class. While this book is not uplifting, it's useful and helpful and does have some good ideas for making a few bucks as a writer in ways one wouldn't necessarily think of - and don't get started on term paper writing. That opens whole can of worms as he points out in the last chapter. Nick also has a lot of experience as a speculative fiction writer and editor and gives great tips to those who might be thinking of developing careers in that area. In that vein he focuses on how to get short stories published and how to avoid turning off editors both in writing style and general approach. However, he also talks about developing novels and gives great advice on MFA programs and genre fiction toward the end of the book. Even if you don't want to be a writer - or have never tried to be a writer - if you like writing and are interested in some of the perils and pitfalls of the writing life, it's a really engaging book and I highly recommend it.