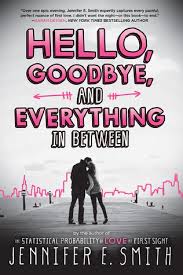 It would be easy to dismiss this book as a tearjerker romance in the vein of a lot of other YA romances out there these days, and Jennifer E. Smith has certainly written some good ones. However, this one is especially interesting from the craft perspective – or at least I thought so. It depicts the story of the last 12 hours of the romantic leads' (Aidan's and Clare's) relationship before they head off to college on opposite sides of the country. Clare thinks they should break up so they can start fresh in their new lives, and Aidan isn't so sure. What follows is a story of plans changing, position being questioned, relationships being challenged outside the central romantic relationship, and a final resolution which may or may not be final. You'll have to read it to see!

What interested me from a craft perspective is the way Smith creates a tight narrative that focuses on the characters and their dilemmas and fears that is fast paced but still resonated with emotional depth. She does this partly by writing in what I might describe as third person omniscient point of view with a relatively close focus on the two leads, or even third person limited but with two point of view characters in each scene, rather than one. This book could easily have been written in alternating first person points of view (Clare's point of view versus Aidan's) or even in alternating third person. The advantage of telling it the way Smith does is that it creates a tight claustrophobic feeling with both lead characters' thoughts and feelings juxtaposed on the same page in almost every scene. Additionally the third person voice gives a sense of detachment for the reader (over, say, first person) that reminds the reader of the detachment the characters are struggling with as they say goodbye to everything they've known before and move into the bigger world.

Regardless of writing technique, it's a good smooth engaging read and easy to knock off in one sitting, so for an end-of-summer beach day read, I would definitely recommend it.