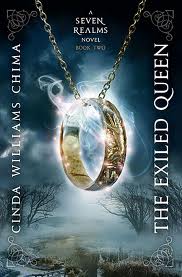 Forgive me for saying this, but I couldn't resist referring to the second book in Cinda Williams Chima's Seven Realms series as "The Seven Realms Goes to Hogwarts", and I mean that in a good way. In The Exiled Queen, Han and Raisa and all their comrades who escaped various dangers at the end of book one make the trek to Oden's Ford respectively to train and hide from danger. This book allows the characters in many ways to be kids and students and escape from their previous lives as street lords and princesses and all manner of other things. And yes there are components of the schooling (those for the wizards in Mystwerk House) that resemble some of Harry Potter & Co's time at Hogwarts, but there is also military training for Raisa and her crew (including Amon) at Wein House. There's taverns and cider and sorcery and tons of schoolwork!

This book focuses more squarely on the younger characters than the first book. There are some new adult characters - notably the teachers at the schools and the mysterious "Crow" who befriends Han in a wizard dreamworld. But the grown-up soldiers and wizards and royal folk from book one play a minimal role here, allowing the reader to get to know the younger characters better. The romantic triangle that was hinted at in book one is developed more fully - and a little heartbreakingly - in this book. But there's still plenty of room for development in book three, which I have just started.

I'm sticking with the audiobook versions of these books because of Carol Monda's wonderful narration. She captures all the characters voices beautifully. I particularly like her calm, but increasingly "on the edge" rendition of poor Amon who does his best but always seems to be letting Raisa slip through his fingers both literally and figuratively. Monda's rendition of Han is also terrific - capturing both his rough edges and the gentleness in his heart. And of course Raisa is a firebrand whose inner strength shines through whatever terrible position she ends up in.

Someone commented on my post on the first book that this series gets better and better (and Carol Monda's narration never fails to enhance the strength of the books). I have to agree. I'm keeping reading and looking forward to reviewing the rest of the books.