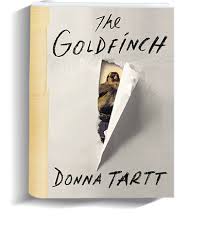 I know I'm going to sound like an absolute philistine for saying this, but I found The Goldfinch by Donna Tartt to be about 200 pages too long. And I'm referring specifically to the last 200 pages or so. I'm a huge fan of The Secret History and have read The Little Friend, although I didn't enjoy it as much as The Secret History. Thus, like others, I generally very high expectations for Tartt's work which is probably why I can be easily disappointed. The Goldfinch is a masterful achievement in many ways. In the space of the book, the author presents rounded and thoughtful views about the nature of life and death, love and loss, good and evil, and the role of art in informing who were are and how we cope with the world around us. Even though the book revolves around the world of visual art and antiques, many of Tartt's thoughts about these issues could equally apply to music and the literary arts. She muses on all the "big themes" in a book that nevertheless focuses tightly on the life of one single narrator (Theo Decker). She writes in the first person point of view as the young man grows up and comes to terms with who he is, which in itself is a great achievement. For a woman writer to put herself into the mind of a young man growing up and to reflect his growth so effectively is a testament to Tartt's talent as an author. The cast of secondary characters is also beautifully developed. There are no stereotypes here except, perhaps for the last section which is the part I had trouble with as a reader.

So here's the problem for me: Tartt spends so much time developing an intricate plot and a complex cast of characters, but in the last section, everything becomes a little larger-than-life, drawn-out and almost farcical. I'm not sure if this was intentional or not but I found it difficult to read because I was disappointed that a couple of the more complex and engaging characters in the book seemed more over-the-top and two dimensional toward the end than they had been earlier in the story and I couldn't immediately see why this was necessary, or indeed whether it was intentional. I understand that Tartt wants the hero (or perhaps "anti-hero" would be a better term) to experience a major life crisis to come to a new equilibrium at the very end, but the crisis seemed melodramatic and overplayed.

Other than my disappointment at the final section before the ultimate resolution, there wasn't much I could criticize. Even though the book is very long and there area lot of characters and locations and plot points to keep track of, it's engaging and beautifully written. So I was flying through it until I reached the last section and then became a little lost and disappointed. I would definitely recommend this book to others, particularly for the powerful themes it engages. I'm curious to see what Tartt does for her next project.