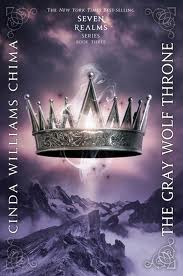 Still powering through Cinda Williams Chima's Seven Realms series, and today finished The Gray Wolf Throne (book 3 out of 4). While I'm keen to see how the story finishes, I'm going to be sad when I get to the end because I'm really falling in love with this unlikely cast of characters who are often forced together despite their political and religious differences. In Book 3, Chima continues to engage in some amazing world-building, creating more rituals of queen crowning and social nicety. The tone of this book reminded me a little of The Empire Strikes Back in the original Star Wars franchise - the book that's essential to set things up for the final battle, but where most of the characters end up pining for something they can't have, and all of them have to make sacrifices for the greater good.

Like the second book, this book focuses on the younger characters and keeps the adult characters waiting in the wings for the most part. In many ways, it's the younger characters that are most interesting and are certainly the focal point of the story. Most of this book focuses on the perspectives of Princess Raisa and her on-again, off-again boyfriend Han Alistair, although we get a few glimpses into the perspective of all-around nice-guy Amon Byrne who does his best but always seems to be making sacrifices. Will he truly find a happy ending??? He's one of my favorite characters and in the audiobook version of this story is still beautifully voiced with gentle restraint by narrator Carol Monda.

There's more political maneuvering in this book than in some of the previous installments, thus promising some high level revelations at the global and hopefully also the personal level in the final book for each of the main characters. And will Micah Bayar prove to be the good guy everyone hopes he can be at the end of the day?? More later when I read book 4!