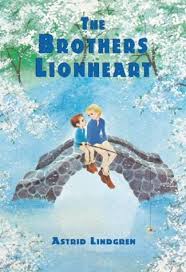 Zach hasn't blogged for a while because he's been busy with schoolwork. Elementary school is a busy time! Anyway, he's been reading The Brothers Lionheart by Astrid Lindgren (a gift from his aunt) and here's what he had to say about it ....

SPOILER ALERT!

"It's a book about two kids and their names are Karl (Scotty) and Jonathan. So first Jonathan dies and then Scotty dies and they go to Nangiyala and Jonathan's on a mission to go fight Tengil and once they kill him they run away but while they're running away Katla the Dragon burns Fyalar, Grim and Jonathan. And so a little bit of fire is enough to turn you into a vegetable or kill you and Fyalar and Grim die and Jonathan loses the ability to move his legs and so Jonathan and Karl jump off a cliff and once they die they go to Nangilima.

I think there should be a book number two because I want to see what it's like in Nangilima. Also, they jumped off a cliff because they still wanted to be with each other and they wanted to be with Mattias because he protected them and he almost became Karl's grandpa."