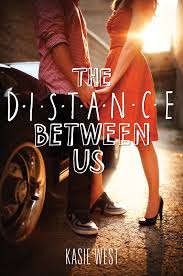 Having very much enjoyed Kasie West's
Pivot Point
, which turns out to be the first in a series (second book is forthcoming in 2014), I was interested to learn of her contemporary YA romance,
The Distance Between Us
.
Pivot Point
had romantic elements, but was also a great sci-fi story, so I was curious to see whether West could pull off a page turner of the non-sci-fi variety. I wasn't disappointed, although I really like her sci-fi work better, but that could just be my predilection for speculative fiction.
The Distance Between Us
is a sweet contemporary romance with a few hard-to-swallow plot elements for which the reader has to be willing to suspend her disbelief. It's basically the story of a lower class girl who falls for an ultra-rich boy and the money gets in the way (doesn't it always?) But there are reasons - from her and her mother's past - why the wealth is a particular problem for her. The romance is cute and sweet and the dialogue, as with all of West's characters, is peppy and funny. The secondary characters serve nice supporting roles, and are very emotionally supportive to the main characters too. This is a very quick read. Seriously, I read it in one evening. So obviously not a long tome requiring much thought to digest. If you're in the mood for a light, quick romance and are willing to suspend your disbelief about some of the plot twists, particularly toward the end, this may be a good read for you. Also suitable for younger readers because nothing explicit happens on the page.